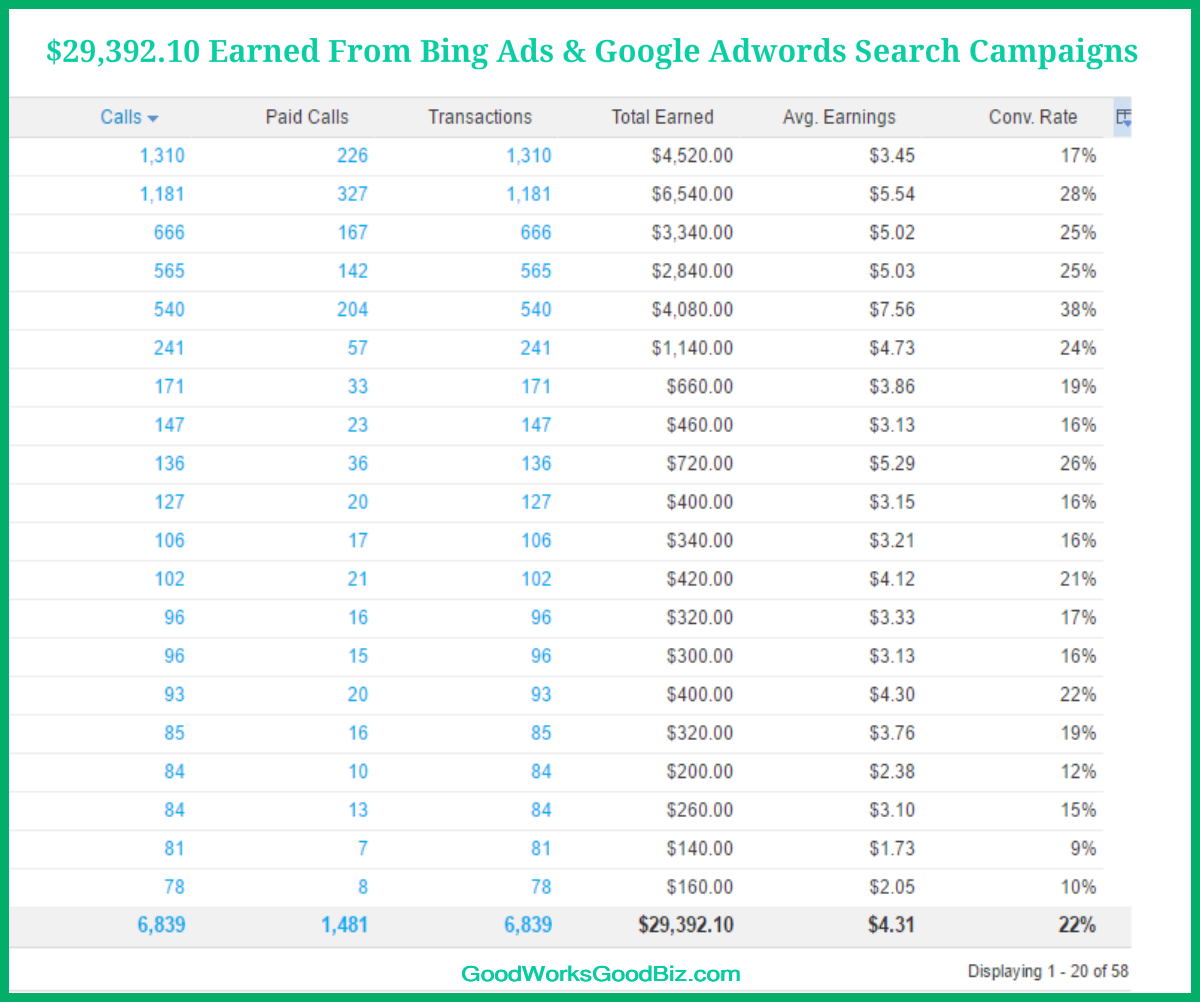 The screenshot above shows over $29,392 generated from Bing Ads and Google Adwords campaigns promoting ONE affiliate offer. I'll share with you EXACTLY how I create profitable marketing campaigns. You'll learn how to use secrets shortcuts along with proven marketing strategies to create a surge of targeted traffic on demand and make your affiliate sales and profits soar.
Why Wait Months or Years Trying to Get Free Traffic When You Can Buy Rapid Results for As Little As $5? You Can Boost Your Sales and Profits… Day After Day
One of the most common reasons why many entrepreneurs are failing online is their refusal to invest any money in their business. Instead, they get lured by the promise of free traffic that never comes.
This kills not only their chances of building a profitable blog, site and business… but also their dreams of a better life.
The most important investment you can make will be paid marketing strategies that allow you to have access to unlimited targeted traffic on demand… and allow you to get sales and profits day after day.
You can start with a tiny budget… and just keep recycling it to grow your profits.
For example, you can get targeted traffic on demand, sales and profits with as little as a $5 marketing budget.
When I was a new marketer, I even started with a $1 marketing budget… just to get some practice driving targeted traffic to my site. I was very surprised to get sales and profits from such a tiny budget.
Sometimes, you can get some sales and conversions within just a few hours of starting your campaigns. Of course, you always have to tweak your marketing campaigns to get maximum targeted traffic, sales and conversions for as little money as possible… thereby maximizing your profits.
Once you have a profitable campaign, you can end up with UNLIMITED marketing budget by recycling your initially tiny budget. Every time you get paid, you just keep re-investing your profits… and keep making more and more money.
I will show you how you can maximize your profits and keep recycling a tiny budget to grow your business online…
What are the consequences of NOT using paid marketing strategies?
It's hard to believe that any entrepreneur will refuse to buy targeted traffic to get sales and profits, but it happens quite a lot.
It's one of the most common methods of "accidentally" killing a business online. Maybe the promise of eventually getting free traffic is just too powerful for millions of internet entrepreneurs to resist… and they end up going broke trying to do it.
Most struggling entrepreneurs do not realize this…
Free marketing strategies are not really free. They can waste a lot of your time — and they can end up COSTING you a lot of money in lost opportunities. They can delay your progress for many months or years. They can even keep you from becoming successful.
Most people are afraid that they would lose a lot of money if they use paid marketing strategies. But, this is not necessarily true.
If you have a marketing campaign that is not making money for you, you're going to stop running it. The only reason to continue a marketing campaign is that it pays for itself and it's also generating profits.
Paid marketing strategies can actually end up NOT costing you any money. You can get paid targeted traffic for FREE because the marketing campaign pays for itself.
Here's the best part…
You don't have to settle for just getting your money back from your paid marketing campaign. You can also end up making more money!
If you could make $2 profit for every $1 you spend marketing online, how much money would you spend to keep making more and more money?
Of course, you would spend as much money as possible!
Paid marketing strategies can offer you the FASTEST path to building a profitable blog, site and business online.
So, change your mindset.
If you're trying to leave an unfulfilling 9-to-5 full-time job, isn't is worth it to you to learn how you can get rapid results?
The purpose of using paid marketing strategies is to generate sales and profits quickly. You can start generating sales in as little as a few hours or days. You can maximize your sales and profits by tweaking your campaigns.
Once you have a profitable campaign, you're not just getting your paid marketing strategies for free — you're making more and more money!